Aladdin Cafe Catering to San Diego
There is a definite advantage to choosing reputable corporate catering for a special business meeting or presentation. The staff, servers, and chefs at Aladdin Café, located at 5420 Clairemont Mesa Blvd in San Diego, take great pride in presenting top-quality Middle Eastern food at their restaurant or the meeting area you've selected. Tasty appetizers and entrees make a nice break from the speeches and workshops found at corporate events.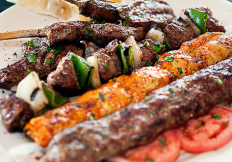 Hiring a good catering service lets you pay attention to the tasks you need to complete. Aladdin Café handles the planning and delivery of the meal. The menu includes Vegetarian food and Vegan food so that attendees find foods that appeal to their appetite and dietary restrictions. The advantage is that no one is obligated to leave the building to satisfy their hunger. A secondary benefit is the appreciation for your company for providing such a good meal!
Appetizers help spike the interest of meeting participants. One favorite is Dolma. The stuffed grape leaves are a Vegetarian favorite and part of a healthy diet. They are a medley of rice, chopped onions, chopped tomatoes, and parsley. The mixture is rolled in grape leaves, steamed, and topped with lemon sauce.
Hummus is a popular appetizer and dip. This Middle Eastern food from Aladdin's is a tasty blend of tahini, fresh garlic, garbanzo beans, and lemon. The 12-inch tray serves 8 – 10. If you're expecting a large group, select the 18-inch tray that serves 25-30. Simply provide the guest list to the café catering experts. They will discuss how the food will be presented and how much of each item should be ordered. The delivery will live up to your professional expectations.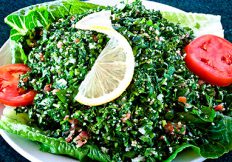 An enticing salad for each guest provides a satisfying meal. The chopped chicken salad is a favorite. It starts with chopped Iceberg lettuce. Slices of tomato and cucumbers add colorful appeal to the salad. Black olives, sun dried tomatoes, and Feta cheese are added along with pistachios. It is tossed with homemade Greek dressing and topped with carrots and sliced flame-broiled chicken breast.
Organized preparation, service, and cleanup provide a well-received meal and allow attendees to focus on the business agenda once the lunch break is over. Guests appreciate the special effort made to cater to their requirements, such as Vegan food. The success of the meal will likely be a main theme of conversations about the meeting for weeks to come and boost the reputation of your own company.