Eating a Healthy Lunch at Aladdin Cafe
If you are looking to stay fit and healthy, then you probably know the importance of having well-balanced meals at lunchtime. However, most of us lack the option of healthy food, with many of us resorting to highly processed or unhealthy fast food. Aladdin Mediterranean Restaurant in San Diego, California is one of the few restaurants in the area that understands the importance of having healthy dietary options when it comes to a healthy diet.
Meals at lunchtime are significantly important because the type of food you eat during this time will have a direct impact on your overall health. Eating unhealthy food such as processed and greasy food predisposes you to lifestyle diseases such as obesity and diabetes. Studies have found that skipping meals during lunch time to lose weight will ultimately have the opposite effect for a majority of people. Having healthy, balanced meals during the day is more effective for weight loss and improving overall health. The meals at Aladdin are prepared with this in mind and the chefs are always looking to add healthy options to the menu.
Aladdin's main offering is Middle Eastern food, which is one of the main dishes that make up the famous Mediterranean Diet. These types of food normally consist of fruits, vegetables, whole grains, nuts, and other foods rich in calories and healthy fats. The food at Aladdin is also specially prepared with healthy herbs and spices instead of salt, which helps manage blood pressure.
Many nutritionists emphasize the importance of having a healthy lunch that offers a balance between the five major food groups: lean proteins, grains, fruits, vegetables, and dairy. At Aladdin Cafe, the menu is designed to accommodate these food groups to ensure you eat healthily. One of the menu items at Aladdin, the famous hummus topped with either lamb or chicken shawerma, offers the largest proportion of healthy food groups in the restaurant. The meal incorporates beans tahini, fresh lemon and garlic, olive oil, and chicken or lamb. When served with one of Aladdin's freshly made in-house salads or desserts, this meal is bound to leave your taste buds thoroughly satisfied.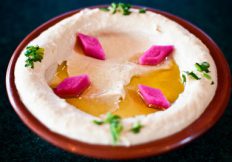 Apart from the hummus, Aladdin also offers other options for a healthy lunch. You can choose from different types of wood-fired pizzas, exotic rice plates, sandwiches, and up to twelve different types of entrees. These can be accompanied by lentil soup, herbal tea, or a variety of regular or sugar-free drinks for refreshment.
Aladdin also serves healthy vegetarian food for customers that have specific dietary restrictions. The restaurant also prepares vegan food on request, with the chefs at Aladdin always keen to ensure vegan and vegetarian meals are healthy. If you would like to deliveries made at home or for your office, Aladdin offers catering services to ensure you can still enjoy a healthy lunch outside its premises. Corporate catering is also offered for clients that would like to have meals served during meetings or other corporate events.
When planning your meals, always ensure to eat a healthy, balanced diet for meals during lunchtime.