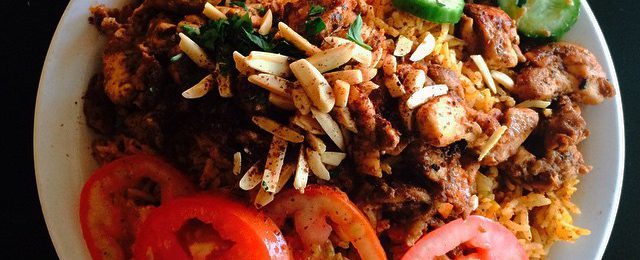 Healthy Dining at Aladdin
If you want to enjoy top-tier Middle Eastern food in the gorgeous San Diego area, you may want to stop by Aladdin Mediterranean Restaurant on Clairemont Mesa Boulevard. If you follow a healthy diet, you can't beat the offerings at this authentic Middle Eastern eatery. There are many benefits to consuming a Mediterranean diet. These diets can encourage optimal heart health. They can make your chances of getting colon cancer significantly lower. They can reduce blood pressure. They can make people markedly less vulnerable to brain destruction that occurs due to the aging process. Mediterranean diets, lastly, can make people less prone to disease and illness overall. If you want to eat out Mediterranean style in sunny San Diego, you basically have no excuse not to head to Aladdin.
There are many delicious vegetarian food options on the menu at Aladdin. There are also many delectable vegan food options for diners who don't consume any types of animal products at all. If you're looking for a place to enjoy first-rate meat-free dining in America's Finest City, Aladdin fits the bill.
Some of the mouthwatering and nutritious favorites that are available on the menu at Aladdin include chicken salad, Greek salad, chicken shawerma pizza (topped with red onions, fresh tomatoes and herbed onions), vegetarian bryani, lamb bryani, falafels (a type of vegetarian sandwich), lamb tika kebabs, lamb chops, shrimp kebabs and lentil soup. The menu at Aladdin is truly expansive and varied. People can explore many meat-based dishes at this restaurant. They can also enjoy many vegetarian and vegan offerings.
Side dishes and appetizers available at Aladdin include stuffed grape leaves (also known as "dolma"), hummus (a classic mix of ground chickpeas, olive oil, lemon and garlic), mixed pickles, basmati white rice, feta cheese, turnip pickles, pita bread and sauteed vegetables. Beverage options include organic iced tea, Turkish coffee, standard coffee and various soft drinks. The menu's many exciting choices in herbal teas include lemon drop, mint, Jasmine green and apricot. People who order herbal teas can receive free refills.
Catering is also offered by this prominent San Diego eatery. If you're looking for a reputable business that specializes in corporate catering service, for example, then you may want to get in contact with Aladdin. If you want to place an order for catering, you have to do so at least a day beforehand. The many catering food options that are offered by Aladdin include dips and appetizers, classic dishes, wood-fired pizzas, salads, rice dishes, finger foods and side plates. The restaurant even offers tasty dessert catering. Some notable examples of popular catering items that are offered by Aladdin are tabouleh (a popular Mediterranean salad), lamb curry, baby okra and spinach pies.