Healthy Restaurant Dining Done the Middle Eastern Way!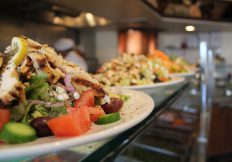 an Diego, California is a great city for health-conscious individuals. It's also a great city for people who like to enjoy international cuisine. If you combine both things, you get Aladdin Cafe on Clairemont Mesa Boulevard. This eatery specializes in Middle Eastern food done right. If you're interested in maintaining a healthy diet, a meal at Aladdin Cafe can make you happy. This popular dining establishment has many vegetarian food optionsavailable to diners who don't eat any meat. It also has many vegan food options available to those who avoid the consumption of any and all animal products.
Some people associate healthy food with boredom and lack of taste. If you visit Aladdin Cafe for a meal, however, you'll quickly realize that that simply couldn't be further from reality. The healthy dishes at this eatery are diverse, fresh and bursting with flavor. The large menu is divided up into numerous categories. These are appetizers, wood-fired pizzas, salads, sandwiches, exotic rice plates, side dishes and main dishes. Some prominent (and absolutely delicious) items that are available on the restaurant's extensive menu are vegetarian mezza platters, chicken shawerma, falafel, vegetarian bryani, barbecue pizza, cheese pizza, spicy chicken pizza, passion fruit shrimp salad, mixed pickles, cheese borak, stuffed grape leaves (also known by the name of "dolma"), basmati white rice, spinach pies (also known as "vegetarian borak"), lentil soup and lamb tika kebabs. Although Aladdin Cafe is without a doubt a fine dininglocation for vegans and vegetarians, it has a good number of meat plates on the menu as well. If you're fond of lamb, chicken, shrimp and halibut, for example, you'll have no problem finding a great dish to satisfy your appetite for amazing and authentic Middle Eastern food.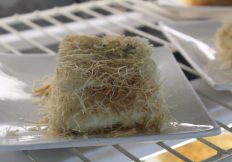 Eating healthy doesn't mean avoiding yummy dessert, either. If you want to enjoy a sweet bite after your main dish at Aladdin Cafe, you can choose between delicious favorites such as baklava with pistachio and kunafa. Drink options include a vast assortment of herbal teas. Examples of these herbal teas are lemon drop, mint, apricot, Earl Grey, decaf passion fruit and chai.
Aladdin Cafe also offers convenient catering service. If you need to find a San Diego eatery that provides reliable and tasty corporate catering service, Aladdin Cafe can give you exactly what you need. Items on the extensive catering menu include baba ghanouj, hummus, chicken curry and vegetables, okra and lamb, lamb tika, chicken tika, Greek salad, spinach pies and chopped chicken salad. Call the restaurant as soon as possible to learn more about all of your exciting catering options. If you want healthy catering for an event, Aladdin should be your top choice.