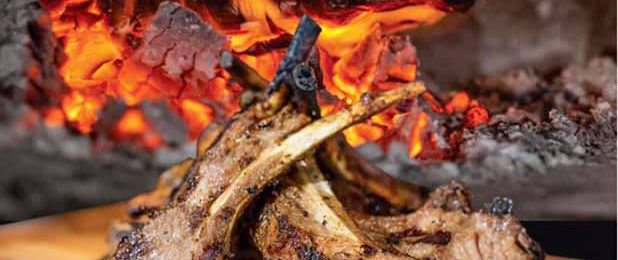 4 Mediterranean Dishes That You Need in Your Life Right Now
Dining alfresco and sharing food with friends and family are right at the core of Mediterranean style dining. It's all about the culture of joining together and enjoying a healthy meal together. When one thinks of Mediterranean food, one thinks of the obvious dishes like baklava, Greek salad, and falafel. Here are 4 Mediterranean dishes that you might not have heard of, but that you will need to try immediately!
Gyro
Gyro is a traditional Greek dish made from slowly and expertly roasting meat for hours on a spit. This interesting style of cooking meat dates all the way back to the Ottoman Empire. This wonderfully tender meat is served with tasty basmati rice, Greek salaf, taziki, hummus, and freshly baked pita. You will know smell Gyro before you see it because it smells absolutely amazing. My mouth is watering, just thinking about it! Build your own gyro by choosing your toppings, and wrapping them in your pita.
Dolma
Dolma is a vegetarian favorite, and a classic Greek dish. It is an aromatic mixture of rice, parsley, chopping onions, tomatoes, and extra virgin olive oil, all expertly rolled into grape leaves. These beautifully flavored parcels are steamed and topped with a lemon sauce. Dolma may be small, but they pack a mighty punch. This is possibly the reason why they are, arguably, the more iconic and well-known Mediterranean food there is. Dolma is also the perfect dish for sharing with friends and family (though you might end up fighting over the last one!).
Makloubeh
One cannot visit Aladdin Mediterranean Restaurant without trying their amazingly authentic Makloubeh. This famous Palestinian dish consists of many divine ingredients: grass-fed lamb shank, aged aromatic basmati rice, eggplant, and tomatoes. The skilled chefs of Aladdin Cafe, expertly bake the dish in their own wood-fired oven, keeping in line with tradition. Interestingly, the dish gets its name as it is then flipped upside down when served. Makloubeh goes back centuries, and it can even be found in a collection of 13th-century recipes, meaning it has been a firm favorite for quite a while!
Meza platter
A Meza or Mezze platter is an assortment of traditional Mediterranean dishes, that are sure to be a crowd-pleaser. Aladdin Cafe offers a beautiful platter that includes their best selling appetizers such as hummus, baba ghanouj, tabbouleh, fattoush, dolma, falafel, pickles, tahini sauce, and freshly baked pita. Why not spice things up and add meat? Aladdin offers a Meza platter upgrade which includes all of the above appetizers and chicken shawarma, grass-fed beef shawarma, kebeh, and garlic sauce.
Outdoor dining has recently become an option at Aladdin Café and we're delighted! Not only does it create a relaxed atmosphere for dining, but dining alfresco also adds to the authentic Mediterranean experience. All of the above mentioned dishes are perfect for sharing with your friends and family while you enjoy a safe, socially-distanced evening out. There are many more delicious Mediterranean dishes on the menu, which you can view here.
Contact us here if you want to book a table, or if you have any questions about dining with us. Make sure to check out our blog for regular updates and more about Mediterranean food.
We hope to see you soon!