Benefits of Middle Eastern Food for Your Next Corporate Gathering
Corporate catering menus do not always include the foods you would eat in a healthy diet. The biggest drivers of catered lunch choices are bulk pricing, easy transport and item popularity. Many companies do not consider the benefits of introducing employees to healthier menus through their catering efforts. Here are two options to consider when planning your next office meal or gathering.
Middle Eastern Food
Middle Eastern food is known for being one of the most healthy diets in the world. It also does not involve complex preparation, as some foods from other parts of the world do. Once you understand the Middle Eastern flavor palate, preparing some of the most popular dishes are as simple as mixing or layering ingredients.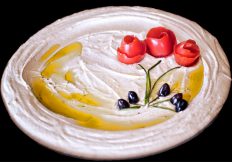 Hummus, a well-known favorite, is a mixture of garbanzo beans or chickpeas with tahini, garlic, lemon juice and olive oil. Once you break down the beans with a mixer, the remaining preparation is just a matter of blending the other ingredients. As an appetizer or small plate food, hummus can feed many people at one time, especially if warm pita points, crackers or toasted breads accompany it.
Meat eaters also have good choices. Skewered kebabs are a mixture of grilled vegetables like onions, peppers and tomatoes with lamb, chicken or a lamb-and-beef mixture.
Options for Vegans and Vegetarians
Even if the company meal must include more traditional American dishes to satisfy the widest variety of tastes, it is still possible to go with Middle Eastern dishes to satisfy eaters who do not consume meat. Many offerings from the Middle Eastern table are vegetarian.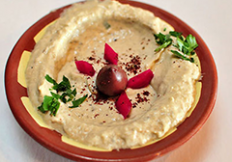 Baba Ghanouj, which is sometimes confused with hummus, uses eggplant, tahini, garlic, lemon and parsley and tops all combined ingredients with olive oil. Fried falafel is a combination of garbanzo beans, parsley, garlic, onions and spices. Dolma, or grape leaves, are typically steamed and stuffed with rice, onions, tomatoes and parsley. A special lemon sauce is poured over the grape leaves.
Any of these choices is enough to satisfy those with vegan or vegetarian diets. Many companies provide salads, bread and cheese for vegetarians, and vegans, who do not eat any animal products, are left to sit and watch everyone else eat. Middle Eastern foods leave less room for the company event planner to exclude anyone in attendance.
The company luncheon or food gathering does not have to be as complicated as it seems. Many people are stuck for choices because they are trying to please everyone in the room. They do not know if they should cater to taste or good health. A Middle Eastern offering caters to both. It offers something tasty that is a little different from the usual fare and something healthy that does not require non-meat-eaters to sit on the sidelines.