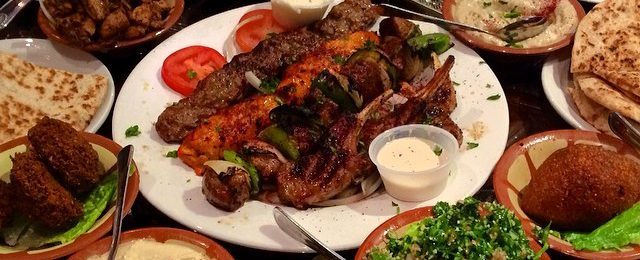 Catering for Weddings and Holidays
Aladdin Mediterranean Restaurant offers a customized menu for that particular most important day of your life and holiday. We are flexible to work within a broad range of budgets, circumstances and flavor profiles to deliver the best quality up to our standard. We will often work with you to realize a creation of a perfect menu at the required price. Our meals are filled with generous portions and healthy food for all the guests.
We offer $25 off for first time catering orders of over $150. Ask us of some the fabulous holiday weddings we have provided and managed and let us also paint a perfect pic of your wedding in service, food, and mood. We are passionate about great service and atmosphere. Let us walk with you in catering the wedding of your dream.
The perfect choice for holiday and special occasions, we gladly cater
• Wedding anniversaries
• Birthday parties
• Christmas parties
• Leaving parties
• Hen parties
• Any other occasion that is worth celebrating
The atmosphere inside our restaurant complements your delicious, healthy food. We have carefully designed a creation of a unique Mediterranean feel that will allow you imagine you are on holiday while relaxing and enjoying your flavors.
Most dietary needs are also catered for at our restaurant, and we serve quality food for those who necessitate it. See our menu page for a list of wine special menus and foods we offer for all events including private events, holiday catering and event catering.